How to Measure Audience Engagement, and Then Increase It
December 13, 2021 •Ryan Gunn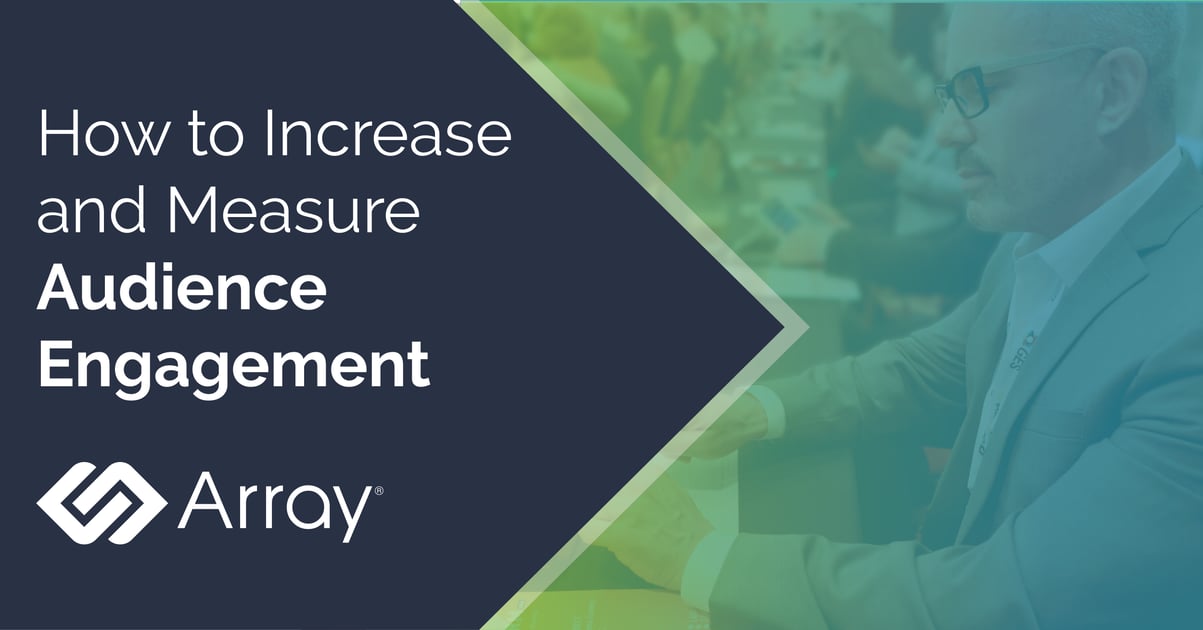 As an event planner, you put a lot of effort into planning an event, putting it together, and managing it to make sure everything runs smoothly. But how much do you put into generating audience engagement, capturing participation data, and measuring the impact that your events have?
Audience engagement can seem like a buzzword, but it's critical to proving your event strategy worked. If you are only capturing attendance data, you are missing out on tons of valuable information that can help you demonstrate value and show ROI. If you don't measure engagement data, you're letting improvements that need to be made for more effective events slip through the cracks.
For effective and valuable events and meetings that please both attendees and stakeholders, event organizers need a clear way to understand and build audience engagement. Read on to discover proven methods to increase event engagement and measure it.
We'll cover:
Defining Audience Engagement
It's often tricky for event organizers to define audience engagement. The problem is that many don't set and track clear engagement goals, or they use engagement metrics that don't show real engagement.
But just like other event metrics, audience engagement is only meaningful when you have a way to capture it. Whether it's duration of attendance, participation in conversations, or questions asked or answered, you need tools to accurately record data to find actionable insights.
Audience engagement is a measure of turning attendees into active participants. What is the best way to do this? Content engagement: planning the right content and content interactions to increase audience engagement.
How to Measure Audience Engagement
What does success look like? How do you measure audience engagement at your event and prove value to sponsors?
Here are the key metrics and takeaways:
Engagement with presenters/sponsors: Response rates for live polls, Q&As, and surveys gather opinions and show contributions to the discussion.
Engagement with each other: Activity in conversations demonstrates networking and knowledge sharing.
Content engagement: Views, notes, and downloads of important resources indicate content usefulness and attendee interest.
Event evaluations: Post-event feedback and post-tests assess attendance satisfaction and learning outcomes respectively.
Aggregate data: Track overall engagement to measure event success.
Individual data: Individual data, like engagement rate and questions answered incorrectly, can enable highly specific follow-up, which is essential for trainings and compliance.
Plus, with event metrics, you can see exactly where engagement drops, to avoid those pitfalls in future events.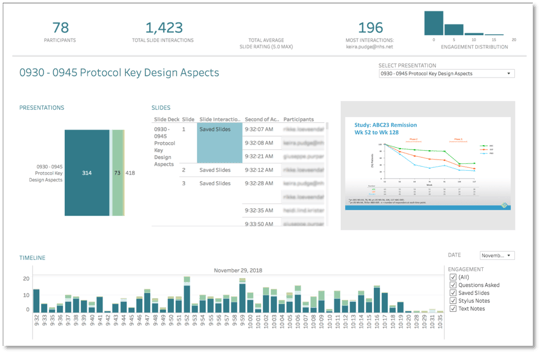 How to Increase Audience Engagement
Audience engagement never happens by accident. Audience engagement strategies play an important role in maximizing participation for effective events and meetings.
The pandemic has radically changed the way leading organizations design and structure events. Now, top event organizers combine the best of virtual and in-person methods to increase audience participation and advance business goals. Advanced content engagement techniques are designed to increase event engagement and provide you with more data.
Here are 7 powerful tips and best practices to engage event attendees:
1. Plan your engagement metrics
Before you start planning your event and structuring engagement activities, it's important to lay out exactly what's important for your event.
Set clear event KPIs that align with your desired event outcomes. Why are you having this event, and what are the key things attendees and other stakeholders should walk away with? Know what engagement means at your event, and make sure your goals are SMART: Specific, Measurable, Attainable, Realistic, and Time-Based.
Some important event engagement metrics to consider include:
Number of attendees and session length: Measure how many people you started with and how many stayed the entirety of your event.
Content engagement: Track interactions that attendees have with the presenter (like polls, surveys, and questions), with the content (like saved slides and notes taken), and with each other (like discussions) to measure contributions.
Event evaluations: Measure attendee satisfaction, and get useful feedback on the event, presenters, and content
Resources: Measure engagement with supplemental content, like the agenda or downloadable resources, to assess the usefulness of materials
Learning actions taken and correct answers: Measure how engaged learners are and track demonstrations of learning by testing before and after the event.
Benchmarking: Compare engagement metrics across a series of similar events to see improvement over time.
With today's virtual and hybrid event platforms with built-in analytics, it's easier than ever to track every interaction. Powerful meeting tools like Array provide an influx of useful data, allowing organizers and sponsors to improve event effectiveness, smooth out attendee experience, and measure their success.
2. Gather audience responses
Life science events and meetings depend on knowledge transfer and sharing critical insights between key opinion leaders. That's why it's important to create and measure collaboration and engagements with sponsors.
Pre-event surveys let you engage your audience from the moment they sit down, before the event begins. Survey responses can be a springboard as you start your event; responses inform speakers on the audience's topic knowledge and interest and gather useful data for business decisions.
During the event, interactive engagement strategies like digitally managed Q&As, polls, and surveys encourage attendees to participate while also helping you collect opinions and address inquiries. The more engaged your audience is, the more likely they are to retain information from the presentation.
You can track engagement rates to determine which attendees were most active, what attendees liked, and what they didn't. This can be useful to plan event improvements and equip Sales or Communications for follow-ups.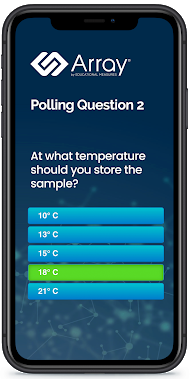 3. Leverage gamification
Are you struggling to spark engagement in your events? You're not the only one. Boredom and silence are the common enemies of many event organizers.
Adding game-like elements motivates and engages attendees. According to Scientific American, motivation comes from 3 critical elements: autonomy, value, and competence. Gamification features like leaderboards and polls for the fastest responders give attendees a sense of control, reward, and competitive validation. Giving out gift cards or prizes to winners can also drive value.
Through gamification, event participants feel more engaged, connected with colleagues, and leave with strong learning retention of key takeaways. That's why educational organizations use gamification to achieve more meaningful educational outcomes.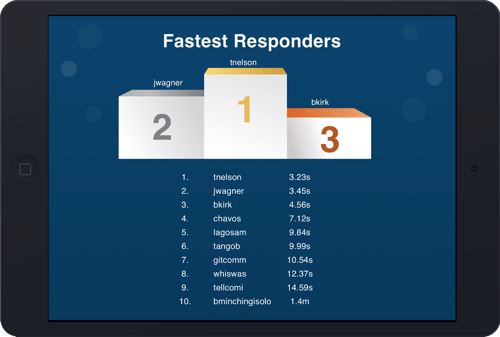 4. Track slide and content interactions
During the event, content is the main form of interaction for attendees. In fact, for virtual guests, the content becomes the event venue itself.
Content engagement tech allows your guests to attend and engage with your event from anywhere. It serves as the hub for your event, hosting everything from slides and videos, to event agendas, to downloadable resources. Using a dynamic platform, and having speakers encourage audiences to access resources can boost virtual engagement.
Measuring slide and content interactions helps you increase audience engagement by gauging the effectiveness of certain materials. For example, a slide that audience members saved, rated, or took notes on is probably far more useful than one that had no engagement. On the other hand, a linked ebook that receives only a few downloads may not be very useful for attendees.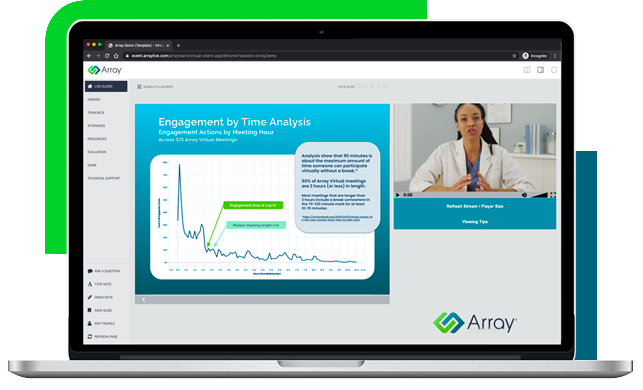 5. Use push notifications
When push notifications pop on your users' screens, they remind your attendees to take an action. These messages can be sent to attendees at the same time, notifying them of important updates, like schedule changes. Push notifications can also promote important content and information, like reminders to save a very important slide.
Push notifications cut through distractions and nudge your audience, making them a great way to get higher engagement. You can also track interactions with push notifications to evaluate interest and effectiveness.
6. Check conversations
Here's a common situation we see: a few voices dominate verbal discussions. What happens? Stunted conversations that don't gather or reflect your attendee's true diversity of insights and ideas.
Encourage quiet participants to submit questions digitally, so they can have their questions answered or opinions voiced without needing to verbally speak up. You can track discussion participation to see how responsive each attendee is.
By checking discussions, moderators and presenters can pull from audience questions and comments to provide answers and explore relevant topics.
7. Take post-event surveys
Understanding your attendee experience is crucial to measure attendee satisfaction and guide event improvements.
You may have often heard the question: From 1 to 10, how likely are you to recommend this to friends or colleagues? The goal is to score 9s and 10s. With event technology, it's easy to collect in the form of surveys.
You can calculate your Net Promoter Score by taking the percentage of positive responses (9s and 10s) and subtracting the percentage of negative responses (1-6s). Consider 7s and 8s neutral scores.
Consider both quantitative and qualitative feedback questions, such as:
How did you hear about this event?
How satisfied were you with the speakers and sessions?
What did you enjoy most about today?
How likely are you to participate in our events in the future?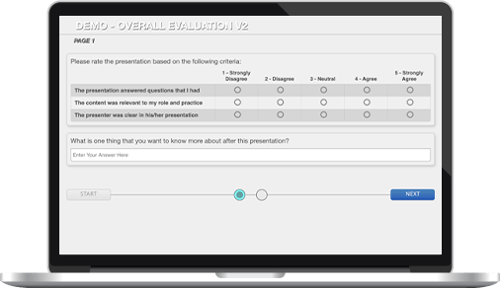 Find the Right Event Platform
What's next? Choose the right event platform for your needs. With Array's content engagement platform, you have the tools to build meaningful audience engagement and measure engagement data for key insights.
Our content engagement software, and built-in engagement analytics and reporting make it simple to define, boost, and track audience engagement. The result: life science event organizers increase audience engagement by 80%.
Want to increase engagement and start building events your attendees, presenters, and stakeholders love? We've helped life science organizations of all sizes and budgets skyrocket participation and ROI in all types of in-person, virtual and hybrid events.
Schedule a consultation today, and let's talk.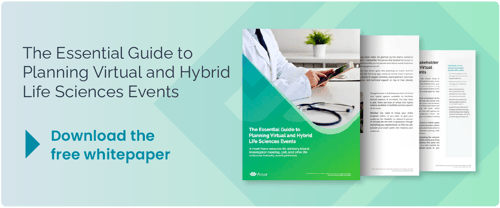 See how Array can power more meaningful life science events →