Give speakers the tools to be successful

Improve Speakers' Knowledge Retention
A life sciences company's speaker bureau can be both an asset and a risk. It's important that your speakers can accurately and confidently communicate new treatment options, products and clinical trial data to their peers. Array can help you prepare your content to maximize its effectiveness using a variety of engagement tools. This way, you can made sure your speakers are properly trained and ready to be ambassadors.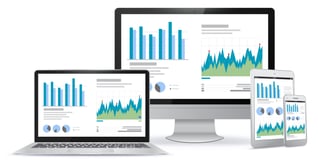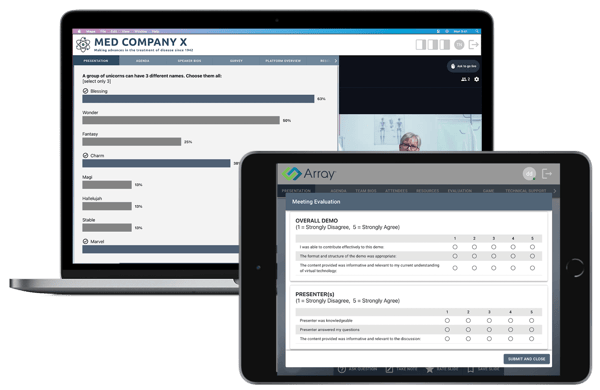 Create Personalized Learning Opportunities
Array's content engagement tools offer you a variety of ways to create personalized learning experiences for every speaker. Have KOLs who learn best by asking questions? Not sure where some speakers stand on a critical compliance topic? Launch a poll or see what slides they saved and what notes or questions they made on them so you can communicate later. All feedback and insights are captured for you to review following the meeting so you can see what speakers know, how much they know, and how well they know it. Interactive features include:
Real-time polling and surveys
Asking questions (text)
Saving slides
Typing & drawing slide notes
Use Real World Scenarios to Reinforce Content
Help your KOLs more effectively communicate your role in improving patient management and expanding treatment by incorporating scenarios in your training. Back up product label knowledge with the "when" and "why," and stay focused on how it will benefit patients. Case-based polling can help you gauge speakers' decision making in different patient scenarios, while gamification reinforces messages with friendly competition among KOLs.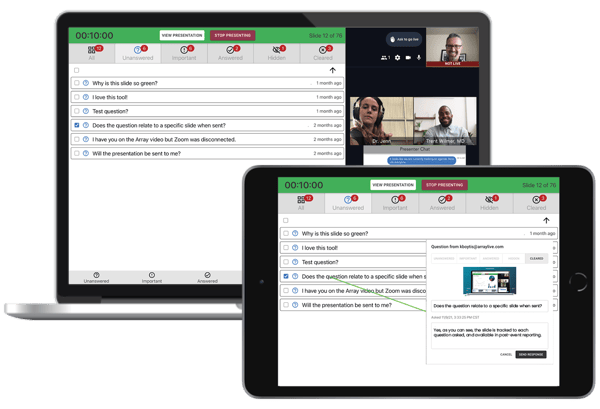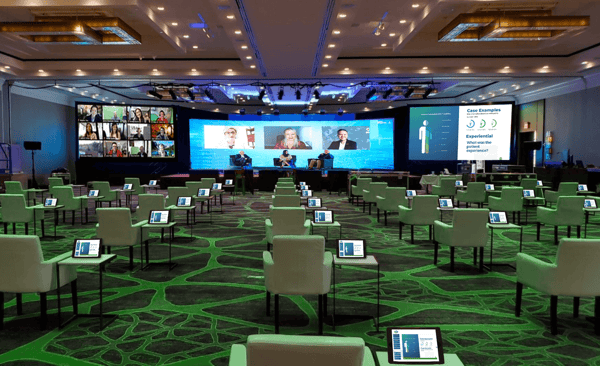 Hybrid Speaker Training Can Reduce Knowledge Disparity
In-person meetings are ideal for providing effective training, particularly since that's often the only time you have your medical experts in the room to help address questions and concerns. Rather than switching to asynchronous recorded learning for speakers who can't attend, easily create hybrid speaker trainings with a synchronous engagement experience for in-person and virtual participants.
In-person speakers, faculty and medical experts interact with Array on managed iPads that are set-up, sanitized, and pre-loaded with your meeting content
Virtual speakers, faculty and experts can interact with each other via Array on their own computer or device
The moderator is in control of what is seen and heard by all presenters and participants to reduce accidental compliance risk
Drive Home Critical Compliance Points
Array can work with you to plan the training to ensure the most critical content is supported by tools that will help it be seen and heard. Identify which messages are key to your success, and what speakers need to know to avoid compliance risks, then develop a plan for presenting these. Array helps you determine how and when best to cover the information, and recommends tools such as placing icons on critical slides to draw attention to them. Engagement with polling placed strategically throughout the training content will help you assess in real-time if speakers are learning and retaining key messages.
Learn how Array helped identify a compliance risk that led a life sciences client to re-evaluate its whole speakers bureau.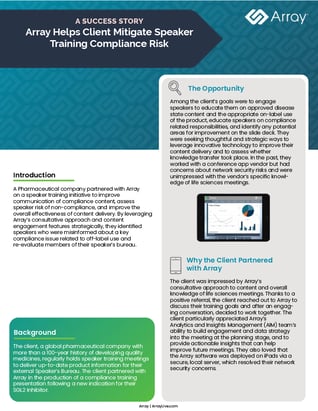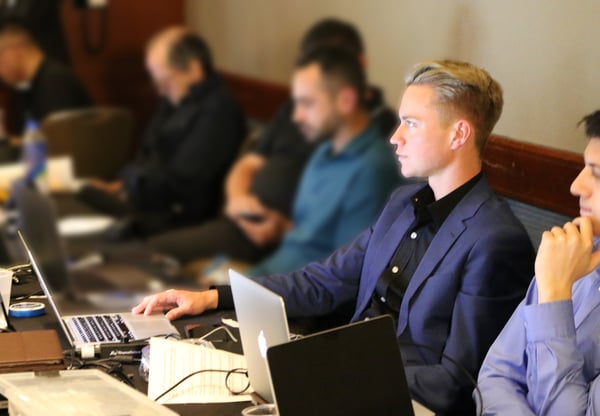 Support Your Speaker Training from Planning to Measurement
Array's client success services can help you plan your speaker training, prepare content and speakers, and execute the meeting. Technical support will be ready to respond to any needs for real-time changes and make sure things run smoothly. You can confidently focus on the training and not the technology. After the meeting, Array's follow-up and analytics will help you assess meetings to improve the overall effectiveness of your speaker trainings.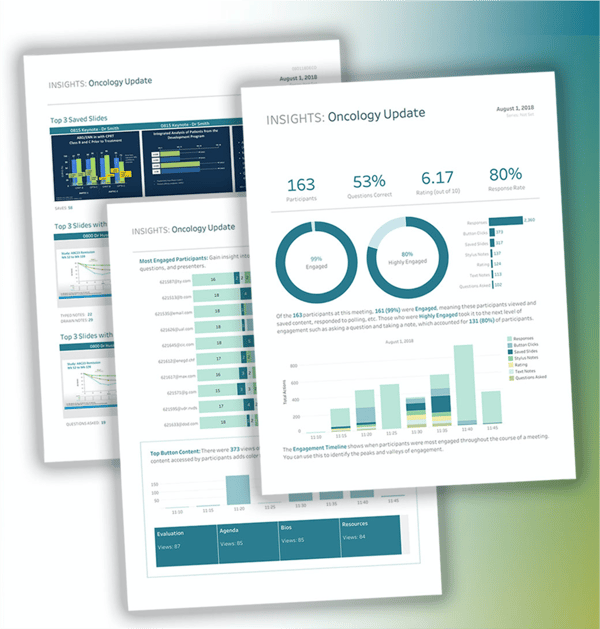 Need Assistance with a Measurement Strategy?
Our Analytics and Insights Management team is here to help you strategize the best ways to engage your healthcare professional audience and collect data that matters. Schedule some time with us so that we can help you take your speaker trainings to the next level.