Create, capture, and measure engagement
Audiences are distracted. You need a solution that keeps everyone at your life sciences event engaged. Array Content Engagement Software lets audiences interact with presentations, content, and presenters, and our unique interactive features can increase audience engagement by 80%. With built-in engagement analytics and reporting, you can measure engagement down to individual audience members—giving you the insights you need to improve and make every event meaningful.
Unique engagement features grab audience members attention
Array content engagement software has 25+ engagement features designed to grab your audience's attention and improve learning outcomes.
Survey Features
Standard Polling
Pre/Post Polls
Open Text Polls
Snap Polls
PreSurvey
Session Feedback
Evaluations
Gamification
Polling Gamification (Fastest Responder)
Cumulative Leaderboards
Confidence Based Gaming (Self Paced)
Conversations / Dialogues
Ask Questions
Direct Reply to Questions
Push Notifications
Slide Interactions
Rewind/Review Slides
Magnify Slides
Rate Slides
Type Note
Draw Note
Save Slide
Post-event Email with Notes / Saved Slides
Sidebar Resources
View PDF's
Downloadable Resources
Exhibit Hall
Bios
Agendas
Videos
Impress your presenters and audience
Array's intuitive, branded user interface makes it easy for both audiences and presenters to jump into the software, with nothing to install or configure. The software can be used on Array Managed iPads, on personal devices, via secure web portal, or a combination — all with the same consistent user experience.
Presenters can do more
Navigate the slide deck with ease
View poll and survey data
Respond to audience questions
Request technical support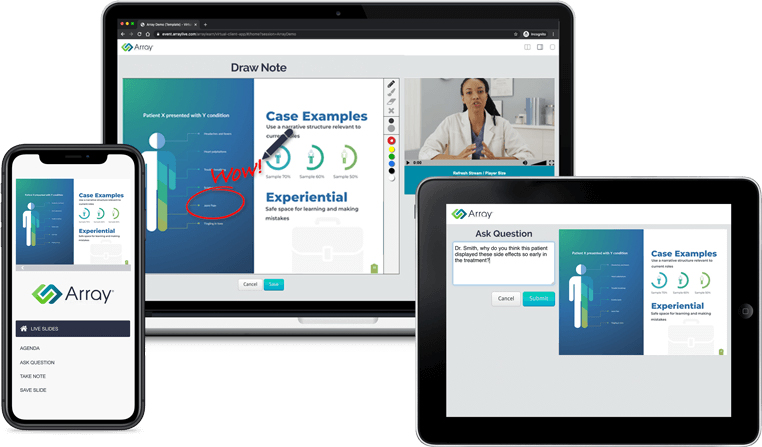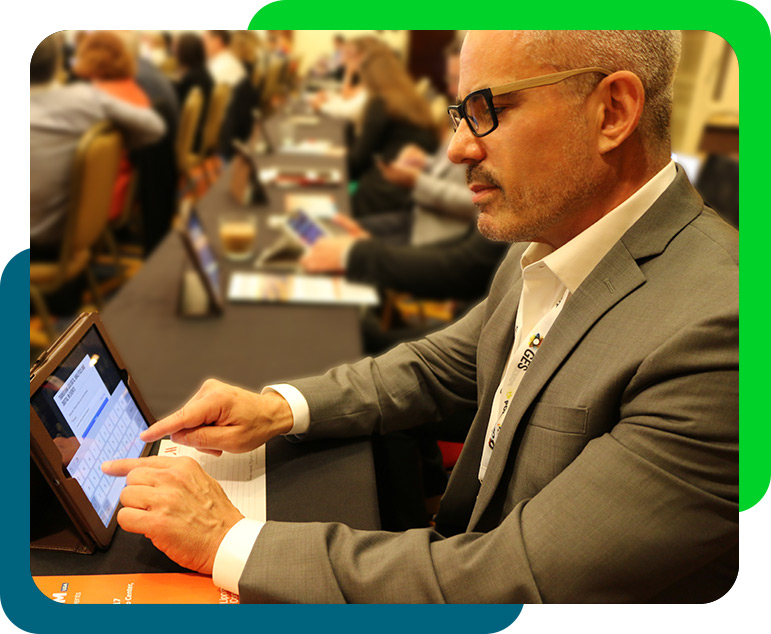 Collect audience opinions with collaborative meetings
You can configure Array for one-way presentations or two-way interactions with audience members. Collaborative sessions — breakouts, advisory boards, internal company meetings, and more — to participate in active discussion and share their opinions.
Want to see Array's Content Engagement Software in action?


Measure engagement with detailed reporting
Engagement can only take you so far without the ability to measure it. Array gives you detailed reporting on which audience members were engaged, which slides were compelling, audience feedback, knowledge transfer, cross-meeting trends and more. You see engagement from when they log on to when they log off.
Array provides you with two reports: The Onsite Report, which contains all of the raw data collected during the event, is sent to you as soon as the event ends. Soon thereafter, we send the Insights Report which helps stakeholders evaluate participant engagement and other meeting outcomes.
The Insights Report Includes:
Total # of audience members
% of audience that were "engaged" and "highly engaged," by engagement type
Engagement timeline shows when audience was most engaged
Top 3 most engaging slides, by interaction type
Timeline of when questions were asked, most common questions, and keyword cloud related to questions
Most engaged audience members, by engagement type
Top button content accessed by audience members, by views and timeline