What is Your Delta Variant Back-Up Plan for Your Event?
August 16, 2021 •Ryan Gunn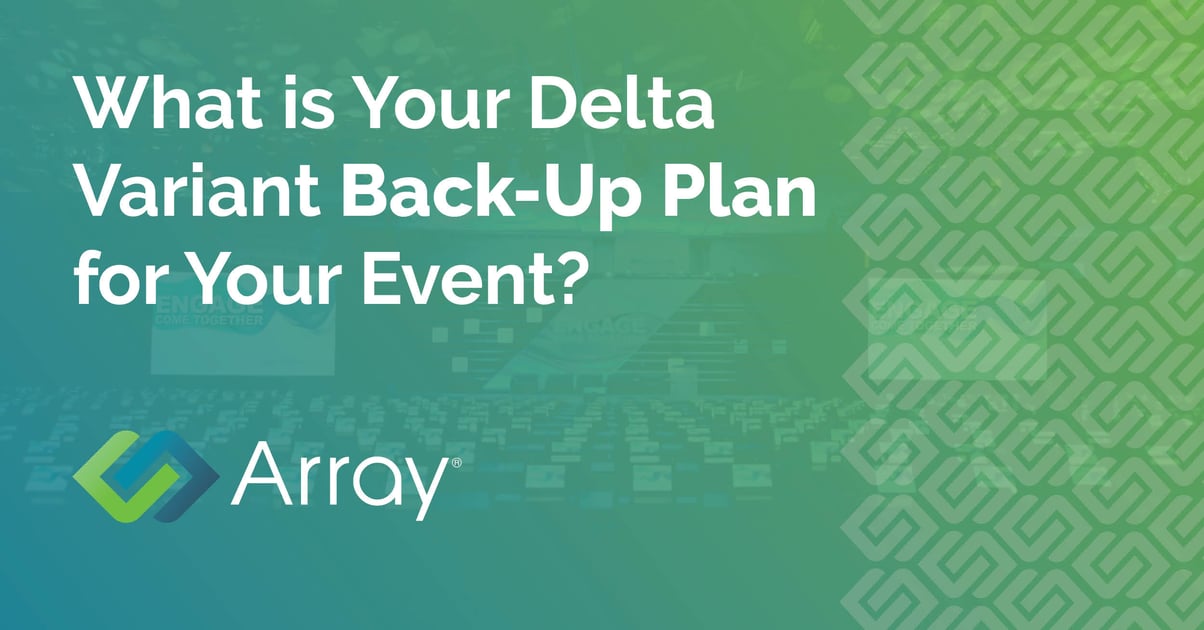 After nearly a year and a half of nothing but virtual events, we are as excited as anyone about the return to in-person. But, in-person events require much more advanced planning, with the venue, travel accommodations, food and beverage, and more. With a longer lead time comes uncertainty, especially with the spread of the new Delta variant of COVID-19.


The Plans, They Are A'changing
According to data collected by MeetingsNet, 57% of event organizers are considering or have already implemented changes to their upcoming in-person events as a result of the recent rise in cases. Some of these changes may be as small as requiring attendees to wear masks, but other events are making the switch to virtual in response to concerns from participants about traveling as well as changes to state and local regulations.
The life sciences events industry is especially susceptible to attendance risks, as pharmaceutical and bioscience companies have had strict travel restrictions in response to the pandemic. While these restrictions have started to lift, a rise in cases as a result of the Delta variant could result in pharma attendance shifting to virtual.


The Problem with Most "Hybrid" Events
One way to address the concerns of attendees is to create flexibility around how your audience can attend your event by adding a virtual component in addition to in-person attendance. Unfortunately, not all hybrid events are created equal.
The majority of recent hybrid-format events have taken the form of an in-person event followed by a virtual experience that consists of recordings of the in-person sessions. Other events allow the virtual attendees to view the content on a different technology platform than the in-person attendees without the ability to ask the presenter questions and answer polling questions in real time. While this is efficient from a planning and logistics perspective, it does create an inconsistent experience for virtual attendees — who lack the ability to engage with presenters and their content.
This ancillary experience doesn't have the same value as face-to-face participation, and if your target audience is unable to attend in-person, you risk damaging your relationship with them.
Hope for the Best, Prepare for the Worst
Imagine this scenario: You've planned an in-person event. Maybe you've even included a virtual experience for the days following the in-person component. But as the event comes closer, you find that more and more of your attendees are canceling their travel plans. Even a couple of speakers have reached out to see if they can present remotely since their company has put restrictions on their travel or they don't feel comfortable traveling themselves.
Suddenly, you are scrambling to put together a remote broadcasting solution and a larger contingent of distracted virtual attendees that may be off-put by the "screen within a screen" effect of watching the recording of a virtual speaker in an in-person room.
You are struggling to keep attendees engaged, your event goals aren't being met, and your stakeholders are getting frustrated.
Luckily, there are ways to avoid this outcome. While many aspects of an in-person event are relatively inflexible when it comes to transitioning to hybrid or virtual — your venue, for example, does not exist in a virtual environment — planners are able to have a back-up plan in place when it comes to their technology.
By selecting a technology partner that has experience with both in-person and virtual, you can maximize the versatility and responsiveness of your event while also creating a consistent and synchronous experience for both in-person and virtual attendees.
A solution like Array is deployed with this in mind and works for in-person, virtual, and hybrid events. No matter how your audience attends, they are using the same technology. We have experience at over 7,000 in-person, virtual, and hybrid life sciences events, and as a full-service solution we are able to help you manage any changes that need to be made to your event.

You can elevate in-person engagement with managed iPads® for every attendee with Array's Content Engagement Software containing the agenda, slide deck, other resources, and access to interactive features that allow them to respond to polling, ask questions, and take notes. Virtual attendees are able to experience the event live and can engage with presenters and content in the same way as in-person attendees through Array's secure web portal. You can even give your speakers the option of presenting remotely if they feel safer that way or are unable to make it for other reasons.

If the worst case scenario happens and the in-person portion of the event has to be canceled, Array can fully transition the event to virtual without you needing to plan a completely new event on short notice.

There are already so many things you have to worry about when planning an event. What you're going to do if that event has to change shouldn't have to be one of them.
Schedule a consultation today to see how Array can help you plan for the unexpected.