What is Audience Engagement? (And Why It's Important for Your Event)
November 22, 2021 •Ryan Gunn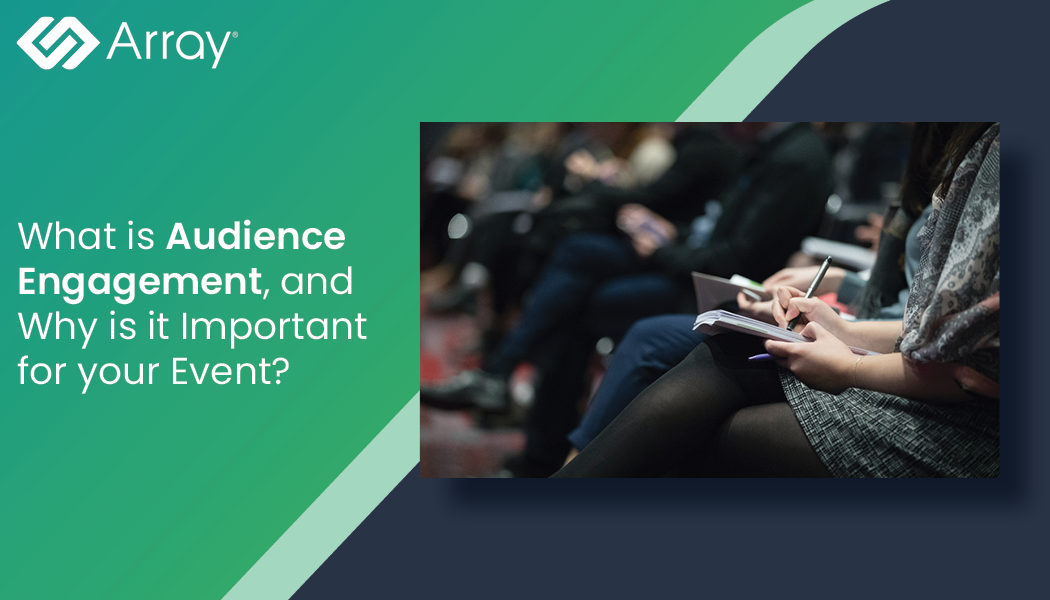 For many event organizers, audience engagement is the biggest goal. That's because, without engagement, events and meetings don't bring value.
But many struggle to know what meaningful engagement looks like. Is it how many people spoke up, or how many questions were asked? They also struggle to boost participation, with devices, distractions, and frankly boring presentations. What structure, activities, and tools can organizers use to maximize engagement?
To optimize for higher engagement, event planners need the right event content and tools to effectively build valuable participation. By using event audience engagement strategies and leveraging engagement data, you can hold more effective events and drive more active and engaged participants.
In this blog, we'll cover:
What is Audience Engagement?
Audience engagement is any action attendees take to interact with your presenters and their content that provides you with data. In short, audience engagement allows you to more effectively communicate with your audience and allows them to communicate with you.
"Content is king…Focus on content that is relevant to your audience. You need to have content that captivates the attention...Then on top of that, you need to create something that is engaging and creates dialogue."

- Leon Winkler, Director of International Events, Ubisoft
Audience engagement helps your attendees:
Learn something new:

Planning the right event content and interactions creates better attendee experiences.

Share important insights:

Audience

engagement creates opportunities that facilitate better conversations and information exchange.
Why is Audience Engagement Important for Events?
In life science meetings, audience engagement matters because it creates relevant learning opportunities, and addresses communication requirements to meet your organization's goals.
Audience engagement is critical because:
Knowledge transfer and retention are key
"Tell me and I forget. Teach me and I may remember. Involve me and I learn."

– Benjamin Franklin
Engaging attendees is the foundation of learning and remembering. Studies show that an engaged audience learns and retains information better.
In life science events, getting information back from your audience is just as important as sharing information with them. An engaging event creates opportunities for peer-to-peer, peer-to-presenter, and attendee-to-organization exchanges.
Impress audiences
Audience engagement leaves a unique impression and helps your organization stand out. A smooth, interactive content experience provides attendees with useful materials and interactions.
Improving attendee satisfaction encourages important relationships and referrals rather than leaving them disappointed.
Address lower virtual audience engagement
According to our 2021 Virtual Events Survey, 47% of event planners experience significantly less engagement in virtual event settings compared to in-person life sciences events.
But as more event planners go virtual to reach larger audiences, it's critical that event organizers include smooth, interactive content experiences so that leaders, presenters, and audiences get the most out of these events.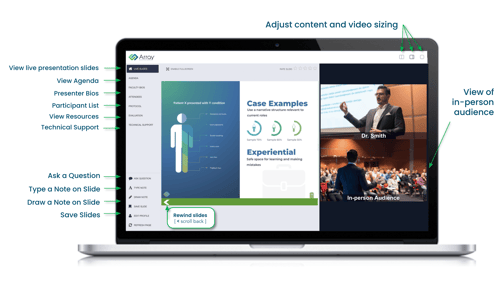 Improve future events with data and audience feedback
To create more effective meetings and events, event professionals must identify what works and what doesn't, as well as common audience praise and complaints.
Data-driven audience engagement solutions give you event analytics and gather real-time and post-session feedback. This helps you understand attendees better and improve event engagement and outcomes.
Ideas for Audience Engagement
Understand what you want to achieve
Defining engagement can be tricky, which is why you need to set goals, measure engagement data, and gather audience feedback. Determine important event success KPIs, like live polling response rates, event surveys, and ROI.
When setting event goals, it's helpful to remember:
Desired event outcomes: What do you want attendees to do?
Event budget: Practically, can you achieve specific goals within your budget?
Event type:

For example, a virtual conference may have different KPIs from an in-person conference.
Ways to increase audience engagement
Getting your audience involved requires you to plan the right event content and put engagement strategies in place.
Here are a few proven ways to increase audience engagement in your event:
Multimedia (like video and animation)
Q&A
Gamification

Polls

and surveys
Content accessibility

Presentation and moderation make or break event success
Good presentation and facilitation play important roles in events and meetings. Even the most audience-centric events require the right structure to keep participants engaged and on track, rather than silent and distracted.
To set the stage for the best presenters and moderators:
Do your topic research and know your audience
Understand differences in knowledge and experience
Set times for focused responses
Involve quiet participants with engagement strategies
Incorporate event tech
Conferences, meetings, and other events benefit from seamless event tech. Now more than ever, event organizers are incorporating software and devices to provide flawless digital experiences that encourage simultaneous participation and collaboration. The right event technology drives more engaged in-person, virtual, and hybrid events, as well as capturing important attendee data.
To maximize audience focus, ensure the best experience, and prevent technical issues, it's essential to pick the right software and have reliable support at the ready. At ArrayⓇ, we help life science organizations increase audience engagement by 80% with audience engagement technology and managed iPads at in-person events.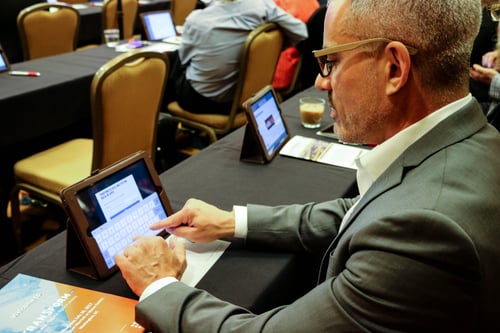 Engaging Your Audience
Audience engagement doesn't happen out of nowhere. It's the result of intentional planning and encouragement by event organizers and requires preparation and the right tools.
You can't afford to hear crickets. The stakes are high. Unengaged audiences don't provide value or stick around.
By taking steps toward audience engagement, you build the necessary foundation for smoother presenters, more engaged audiences, and satisfied stakeholders. With these actionable tips, you can plan for higher participation in in-person, remote, and hybrid events.
Need help getting there? Schedule a consultation to see how you can boost and measure engagement with our audience engagement solution.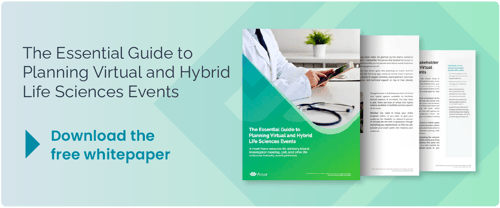 See how Array can power more meaningful life science events →