Achieving Engagement Can Also Check Off Your Meeting's DE&I, Sustainability Goals
July 18, 2023 •Array Team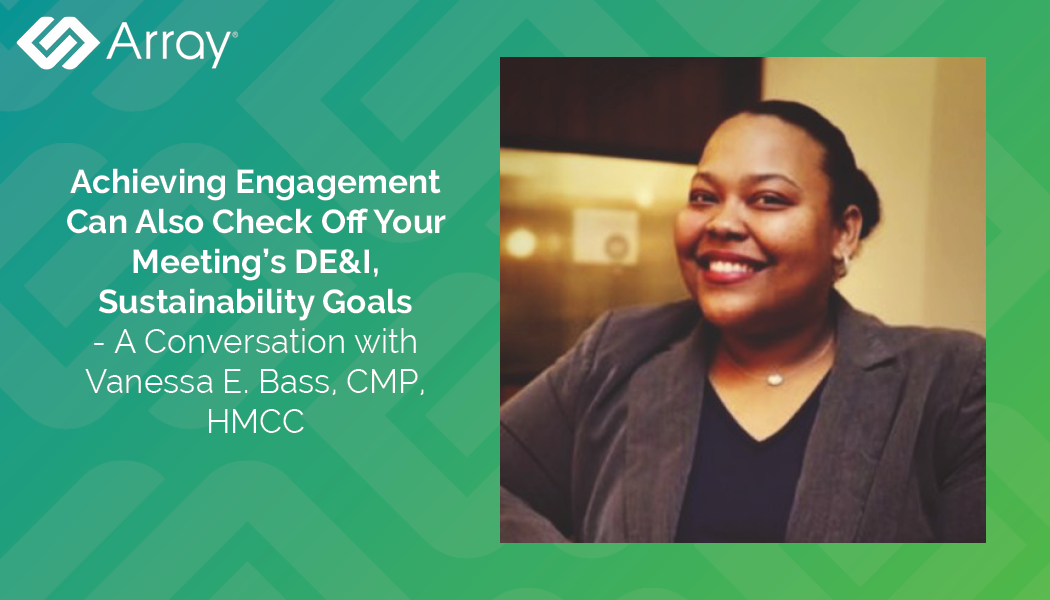 Vanessa E. Bass, CMP, HMCC, Senior Director with Healthcare Consultancy Group, an Omnicom affiliate, believes that engagement remains a priority in life sciences meetings. What she is focused on specifically, however, is engagement as a means for meetings to achieve diversity, equity and inclusion (DE&I) goals. "We're really focusing on inclusivity at HCG, exploring ways to ensure that each attendee feels seen and heard," says Bass. "This can be challenging because you have to overcome language and cultural barriers, lags in virtual presentations, and even personality styles (such as introverted and extroverted) and truly engage everyone."
Vanessa E. Bass, CMP, HMCC | Senior Director with Healthcare Consultancy Group, an Omnicom affiliate
---
Engagement has become a pain point in the industry with the rise of virtual meetings that make it more difficult to hold audience attention and the expectation of instant gratification from technology. People want to see, hear and do everything with technology in real-time and without having to think about or work for it. They also want interactions to reflect their communities, cultures and career or life experiences.
Traditional meetings, Bass explains, used slides that were more data focused rather than patient centric. However, in the post-pandemic world, people are hungry for inclusivity and diversity among speakers and are really looking for more diversity that is reflective of the patient populations they cater to.
"Your content can be great but, for a minority community, if no one in the content looks like them or has a similar background, it won't resonate. This is true for the HCPs as well," says Bass. "The patient comes first; they want to know how best to care for them. That means they want to see more patient centric data for the types of communities they serve. Presentations need to fill those gaps."
The significance of DE&I to life sciences meetings cannot be understated. If a meeting isn't diverse and inclusive, stakeholders could inadvertently be missing an entire population. This population could be potential prescribers, advocates or clinical trial participants. "If data is being gathered from a set or limited demographic, stakeholders may not realize the true impact of their work on various communities," notes Bass.
She has also seen how cultural differences impact meeting success on a global front. She advises clients to pick a Field Expert who best represents the audience, or at least who can identify the different cultures he or she is speaking to. Addressing the language and cultural differences and customs can mitigate being misunderstood or having the key message be missed by the audience altogether.
Make no mistake, it's not enough just to make an event DE&I. "At the end of the day, we're looking for an event to be impressive, something people haven't seen before, with all the bells and whistles. We need services and applications with the 'wow' factor as well as inclusivity, sustainability and accessibility. People need to feel like it's relevant and they're in control of the information they want to learn about. Their experience must be on a person-by-person basis. We have put a lot of emphasis on finding a technology partner that makes that possible," says Bass, noting the industry faces challenges regarding restricted budgets and inflation. For this reason, "There is much focus on securing industry partners that have the most impact on the meeting experience."
HCG has recently started to work with Array, a leading content engagement solution for life sciences meetings. The company provides managed iPads for meetings with content pre-loaded. Attendees don't need to refer to any other electronic devices (avoiding distractions inherent to phones or laptops) or papers. Array's engagement technology offers a variety of ways for people to interact whether they are very outspoken or prefer to quietly submit questions and answers electronically. Recently, the company introduced live interpretation services into its platform.
"I love the interpretation feature incorporated with Array's meeting technology," says Bass. "It checks all the boxes and allows for a more inclusive experience because people can hear the meeting in their own language and participate more easily. The fact that it's also very easy to use the application with no lag time, and it eliminates the need for a lot of additional interpretation services or printed materials, also makes it more economical and sustainable for us. I don't know of any other application doing all that in one."
As meetings have struggled to simultaneously hold participants' attention, be inclusive and sustainable, it's more important than ever to create diverse content and maximize opportunities to engage with it and others in the meeting.