Healthcare Meeting Compliance is Easier with the Right Partnerships
November 11, 2023 •Array Team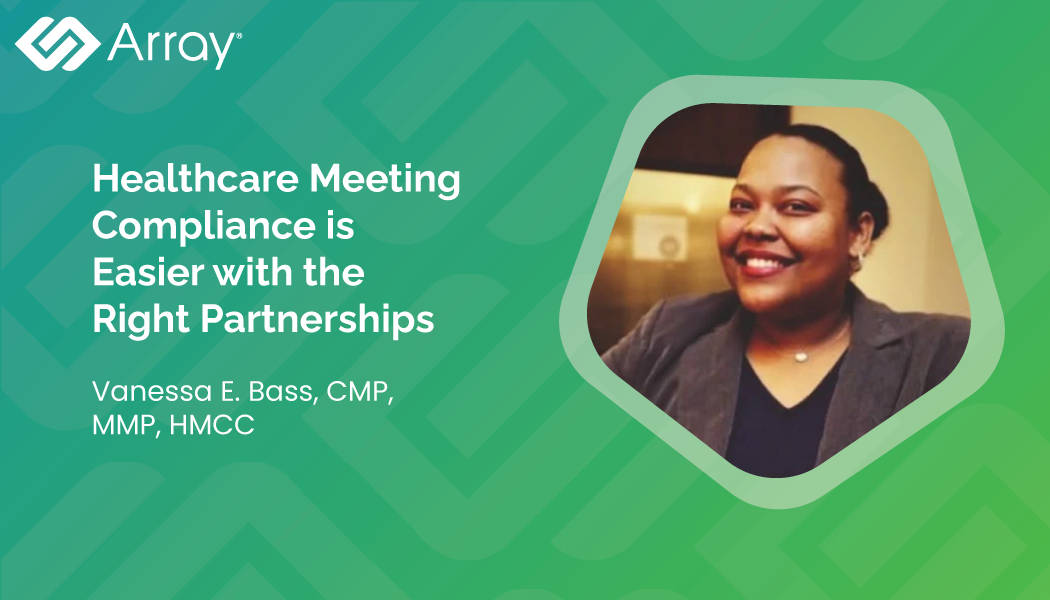 Vanessa E. Bass, CMP, MMP, HMCC, Medical Communications and Healthcare Innovation Thought Leader, and Ryan Mazon, Senior Vice President of Business Development for Array.
When it comes to healthcare meeting compliance, nothing should be open to interpretation. A system that makes it easy for speakers, attendees and partners to remain compliant, and generates the reporting to prove it, reduces risks and makes for a much smoother meeting process overall.
There has always been a clear understanding of what areas of an in-person meeting are particularly relevant to compliance. For instance, food, drinks and compensation or gifting are carefully considered and documented. However, Covid opened the door to a different world, one of virtual meetings. In doing compliance planning around virtual meetings, we realized how important technology partners are in that ecosystem. It became clear how absolutely necessary it is to have the platform and partners that can help us achieve compliance, particularly because technology is now an integral and permanent part of both in-person and virtual meetings.
Working with digital partners during this time also brought about benefits we've come to rely on in both virtual and in-person meeting formats. Among these, the most convenient game-changer was the ability to capture demographic information digitally. Switching from handwritten sign-in sheets to digital gave us more accurate information, with clear spelling of names, designations, license numbers, MPI numbers and the like. By having this detailed attendee information, it's easy to show the speaker was not just presenting to his or her own practice and that we had the right people in the meeting for the right reasons.
Beyond that, stakeholders must be able to report who attended, what they learned and how the meeting was adherent to a particular state's laws and regulations. Therefore, the data has to be collected consistently across platforms; we and our vendor partners must capture the same information for accurate reporting. Partners with robust data collection, like Array, can tell you at the individual level whether someone was online the whole time in a virtual session as well as what content they interacted with and for how long (in either in-person or virtual meetings). Additionally, certain tools such as polling and pre- and post-tests gather data that demonstrates learning took place.
As knowledge transfer and retention are key compliance metrics, clients see the value in polling questions and often include pre- and post-tests. These are effective engagement tools that collect valuable data for compliance reporting. Working with Array, there's also the ability to redirect attendees to other digital assets that would be beneficial for their learning in a 'resources' tab and then capture the metric for those. In this way, we can stay with the attendee throughout their entire journey of engaging with the different assets.
Array also helps personalize the attendee's experience while reducing risk. People like to take notes in a meeting to help them refer to the information on their own or when sharing with their practice later. Often, they take notes with pen and paper, which can get lost, or they type them up on their phone or take pictures. As much as this distracts from their meeting experience, it also opens the possibility that proprietary information is being photographed or copied in some way. Array's managed iPads enable attendees to take notes on slides and then request to have the slide sent to them after the meeting. Since they are told about this feature at the beginning of the meeting, they realize they don't need to take pictures. It prevents that from happening. After the meeting, Array will wait to send anything to attendees until the material is approved by the compliance team. When a slide contains proprietary information, the attendee is sent a placeholder slide that contains the notes they took along with a notice indicating the slide itself is unable to be duplicated. In this way, they have their notes to remind them of the content, but not the original material the client doesn't want shared. The client can be assured that there are measures taken to prevent proprietary information being handed over to attendees. This is just one way Array helps us pay attention to what the client and attendees each need.
One of the greatest benefits of working with the right technology partner is alleviating the ever-present possibility of questions being asked about off-label uses. Array enables us to require questions to be submitted digitally so moderators or compliance leads can flag those that can be addressed during the meeting –and those that should be moved to a one-to-one discussion after. It puts a little more control in the compliance team's hands.
While providing an informative, engaging and enjoyable attendee experience in a compliant manner can present challenges face-to-face or virtually, partnerships can simplify the process. Choose a technology partner that takes compliance as seriously as you do and has a variety of tools to help you not only present a compliant meeting but have the data you need to prove it after.