ROI, ROE, ROO? How Best to Measure Life Science Meeting Success
May 30, 2023 •Array Team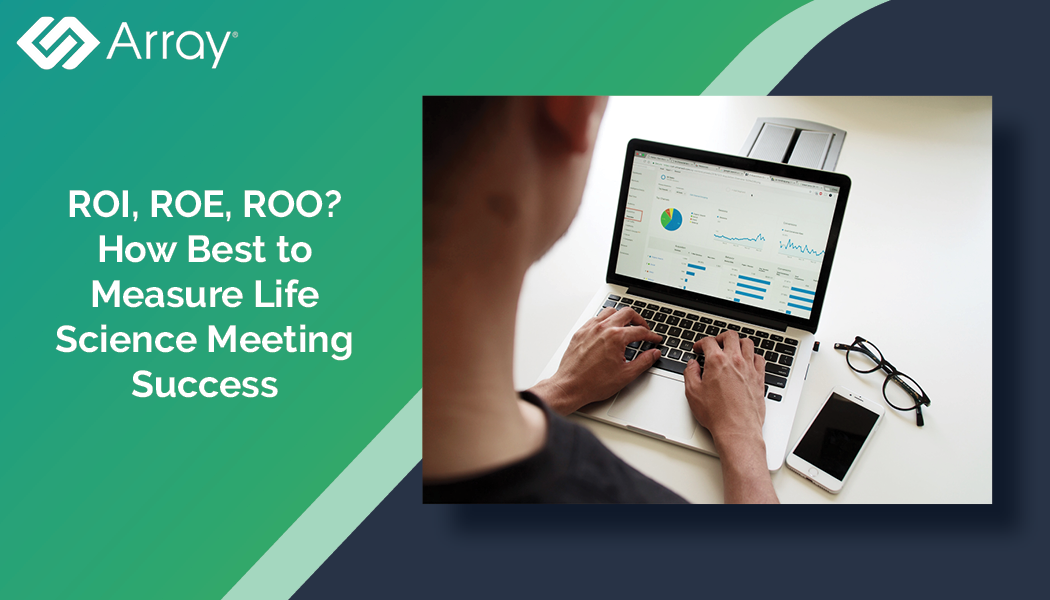 It's easy to measure the return on investment (ROI) of conferences and events in the consumer and B2B industries. There's a straightforward formula: revenue generated from sales attributable to the event minus the total cost of presenting it. In the life sciences industry, however, such a quantitative ROI formula doesn't exist—for good reason. In this highly specialized field, a better approach to determining how much a meeting benefited the stakeholders lies in understanding your return on objectives (ROO).
Traditional ROI metrics used in life sciences meetings and events might include the total number of attendees, percent audience engagement with polling and surveys, and number of questions asked by audience members. Their satisfaction, or perception of having benefited from the meeting, is generally measured by an end-of-meeting survey. While all of this is important to assess, it says more about the logistics of how well the event was planned and executed as well as the strength of the presentation in keeping people engaged and generally happy with how they spent their time. Important information as to if the content was heard, understood or retained—whether or not learning or influence took place—is missing.
Every meeting has clear objectives around attendees having gained knowledge or become more likely to behave a certain way in practice. Measuring whether you successfully achieved those is a better way to define success. Finding your meeting's ROO is easy if you plan ahead. Define measures for objectives early in the planning stage. This can be, for example, resulting in a specific (high) percentage of attendees knowing and understanding important information about a treatment or drug, or being able to select the right patient profile for a clinical trial.
Once the objectives are identified, integrate engagement tools that can provide you with the data points you'll need to determine if they were met. To measure whether critical knowledge was gained during the meeting, for example, you could use a pre-meeting poll that assesses attendees' current understanding of the key messages you'll be presenting. Poll again at the end to see if there were previously wrong answers that were corrected after engaging with the content. The same can be done to measure objectives such as increasing awareness about the benefits of a treatment or drug in particular circumstances. For investigator meetings, case-based questions can determine if the attendees are able to identify the appropriate patients for a clinical trial. If you use engagement tools to gather data from individuals throughout the course of the program, instead of just at the beginning and end, you can measure changes in knowledge and attitudes. Tools such as gamification and polling can test attendees' knowledge acquisition throughout the meeting, providing real-time feedback to presenters so they know whether to drill down on a point or move on.
You can also dig deeper, using tools such as the ability to annotate and save slides. Array collects data for every interaction of every participant, including what questions they asked, how they answered polls and how they interacted with slides. This includes not only identifying which slides they saved, but being able to see what notes they took. By looking at what content attendees interacted with most, and whether their notes indicate agreement or confusion, stakeholders can measure whether messages were received. They can also identify attendees they should follow up with to clarify or reinforce points of learning. This is a second chance at meeting objectives that meetings focused strictly on ROI cannot deliver.
While there are a lot of 'Return On' acronyms, what will matter most to stakeholders is whether the most important objectives of the meeting—the reason it took place in the first place—were met. Gathering robust data through engagement tools will give you the information you need to determine that.