Move to the Next Level in Product Theaters with Array
June 20, 2023 •Array Team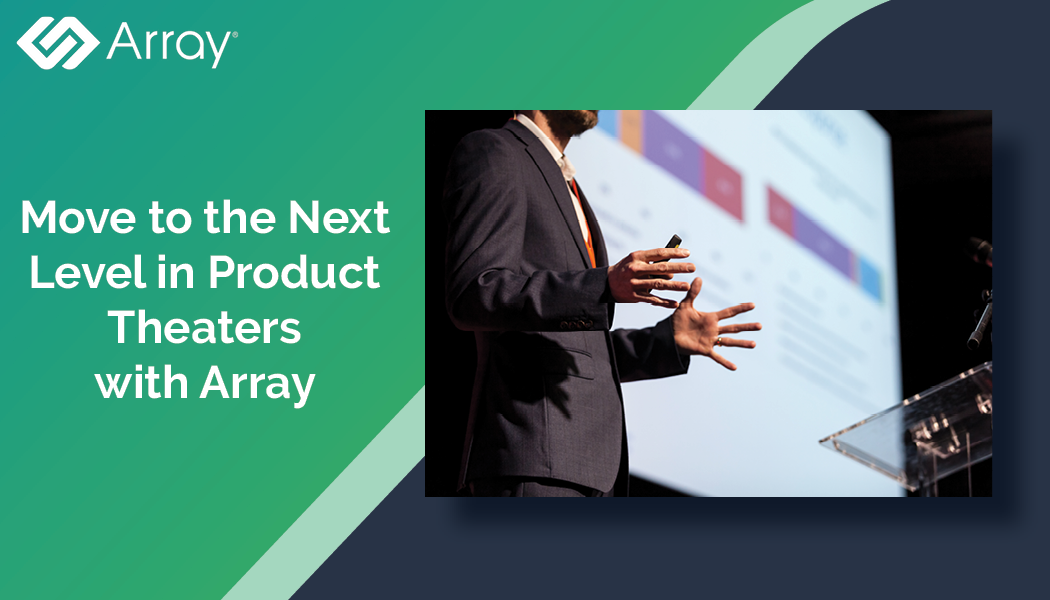 Product theaters are an excellent opportunity to have meaningful discussions with HCPs. With most taking place within the confines of a larger conference, the barriers of time and travel are removed, and the product theater becomes an easy event-within-an-event for HCPs. Companies use this time to discuss new uses, combinations or therapies for their products, as well as updates to clinical research. Unlike many life sciences meetings, however, the goal of a product theater is to generate sales leads or a likelihood of attendees prescribing a specific drug. Given that, companies should make sure they are using every tool available to share their information, keep audiences engaged, and walk away with demographic and narrative information that will help them strategically follow-up with participants to achieve those goals.
"It used to be enough to bring HCPs together in a room and share information about a product that could benefit their patients," explains Ryan Mazon. "The pharmaceutical company knew who was in the room and had contact information for attendees. However, they didn't have a tangible way of knowing how interested each person was—or wasn't—in what they heard, how likely they were to prescribe the drug, or if an additional conversation would benefit them. That's all changed. We can now provide companies with that type of insight."
There are many tools now available to deliver robust, engaging and informative product theaters. Array partners with clients at the planning stage for product theaters. We help develop ways to make the most important content stand out, such as placing icons on presentation slides to indicate they have information worth noting or saving. Attendees also can make their own notations on slides and save them to be emailed later. This interaction with the material personalizes the presentation and its content for them. Q&A features also enable HCPs to gather more information that will help them make a decision.

Alongside the attendee-driven interactions, Array provides polling and gamification features to help keep audiences engaged and communicating with the presenter and each other. We recommend doing a poll at the beginning of the meeting to gauge initial awareness about the product or treatment being discussed. This will inform the speaker as to where a logical starting point is and how much background to cover. Similarly, polls and games throughout will highlight any opinions and insights attendees have, as well as whether they are shifting as the theater continues. Speakers can pivot in real-time in response to audience feedback to make sure they are addressing areas of most concern or interest.
The greatest benefit Array technology can bring to product theaters is in combining these engagement tools with analytics. The engagement technology captures the responses and reactions of a group of potential customers in the product theater. By analyzing those results, we can see when audience members engage and identify themselves as at or near the point of prescribing. We can see what each individual loved, what they saved, and whether or not they indicated a desire for additional information (maybe by something as subtle as writing a question or circling a certain phrase on a presentation slide). These responses offer the best data available and provide optimal action items. With this information, product teams can make changes and improvements, and sales teams can pursue likely sales by reaching out to specific, qualified leads.
Armed with the right technology, product theaters can be used to present information to these critical audiences and also result in a clear and concise list of qualified opportunities to pursue following.