Life Science Meetings: What don't you know?
September 26, 2023 •Array Team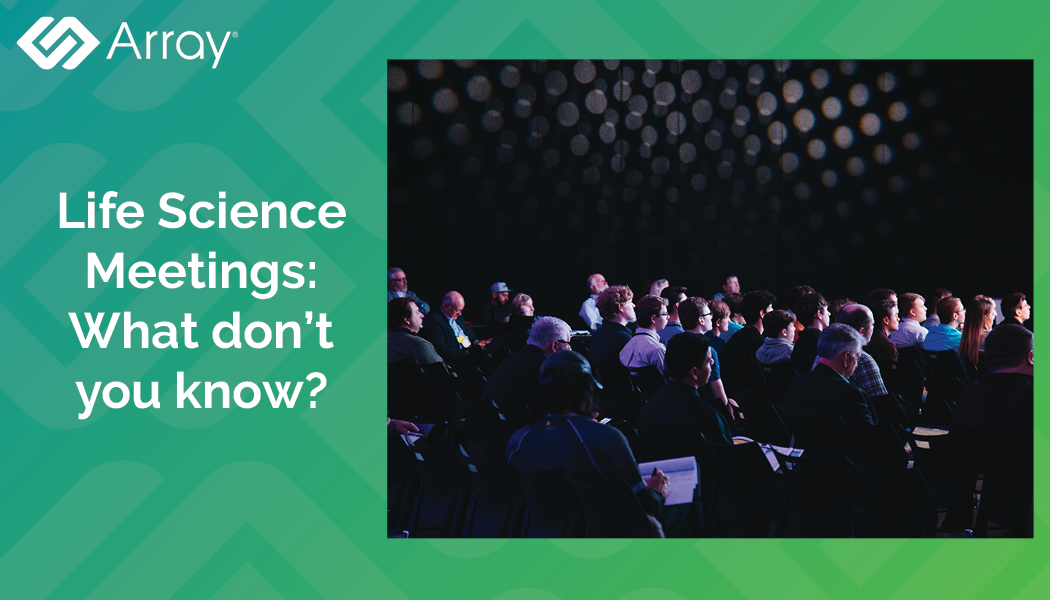 Whether your focus is investigator meetings, advisory boards, speaker trainings, satellite symposia or a combination of many, there are core elements your meetings most likely always have. But are you making the most of these elements, or just scratching the surface? In many cases, what you're missing can make the difference between a good meeting and an impactful meeting that helps drive long-term success.
Across the various types, life sciences meetings generally have some basic requirements:
Technology that enables you to present in a way that is user-friendly for both attendees and the presenter.

Engagement tools that will keep the audience focused, interested and hopefully somewhat entertained.

Data to demonstrate proof of compliance, achievement of the meeting's goals and possibly future opportunities.

Maybe a little bit of a wow factor in the design, presentation of the materials or flow of the meeting so yours stands out from others.
We partner with life sciences companies to provide these 'basics' in a variety of ways. Before equipping them with these, though, we encourage meeting organizers to consider why they want these elements and what benefits they provide. Can they do more and get more? Addressing this helps ensure they have tools that will make the meeting better, provide unique insights into the topic at hand and light a path forward to continuous improvement.
Meetings have an organizational purpose beyond just bringing together a group of people for hours or days. You need to educate, inform, influence, or learn from your attendees. How is the technology you've chosen maximizing ways to do this? Is it easy enough to use that presenters will feel comfortable prompting engagement and reacting to the results in real time? Is it giving everyone in the room equal opportunity to be heard (whether audibly or anonymously)? Is it visually appealing, reflecting your brand and creating a positive user experience? Choose technology that will actively help you meet the meeting's needs rather than passively host content.
Within the technology category, engagement tools can be so much more than just a way to keep people awake. Used strategically, they can entertain and invigorate attendees while also cultivating data that will help you answer important questions, plan future meetings and events and align business goals. Choose engagement tools that encourage more participation because every interaction is a data collection point. Data can inform whether key messages and lessons were learned, how well and by whom, as well as which presenters or parts of a meeting resonated well, and which the attendees struggled with. It can tell you if there's a need or opportunity for follow up on a topic with particular people. Viewed both in real-time (such as seeing responses to polls) and in post-meeting reports, the data can provide far deeper insights than you could get through post-event evaluations.
Early in the planning stage, instead of checking off a list of the basic needs, ask 'what' you need, 'why' you need it and 'how' it will help. Start by identifying what you need to gain from this meeting and how you'll determine its success. Once you've clearly identified your goals, ask your technology partner how they can help you meet them. If a goal is increased knowledge, for example, choose tools that can tell the speaker instantly what percentage of attendees understand what they're teaching and how many don't. Knowing this, they can choose to drill down on a topic while everyone is still in the room. Later, the data derived from engagement tools can tell you who needs follow-up to fully realize the important information. If a goal is to raise interest in a product or topic, make sure your tools can record what questions were asked and by what attendee demographic. You may be surprised at who had what thoughts or concerns.
Considering why you need the tools you do, consider both what you need in the moment and after the meeting. In the moment, you need tools to help with presenting, moderating and audience interaction. Do you need a synchronous tech experience for people in the room as well as in a virtual environment? To provide the best possible learning environment, everyone needs to have the same opportunity to hear and see the presentation and have their voices heard. What more can those tools do for you after the meeting? Most meeting organizers need to take away information that tells them who was in the room and the extent to which they were engaged. Ask your technology partner if they can provide greater insight, such as an analysis of each individual's interactions. It's possible to collect data that tracks each attendee's experience throughout the meeting, as well as to compare across demographics. With the right data, you get a more realistic and robust picture of how the meeting went, where you were successful and where you need to improve.
Meetings can accomplish more today than ever before. To fully realize their potential, demand more of the partners and tools you'll work with to produce them.