Free Resource
Investigator Meeting Planning Considerations
Even if investigator meetings are just one piece of the overall clinical trials training strategy, they are still important and should be thoughtfully planned out. This helpful infographic gives you things you should think about at each stage of the planning process.
Make sure every aspect of your investigator meeting planning process is completely thought-out with prompts such as:
How will you measure success?
Where are the key participants in the IM located, and will they be able to travel?
What training will take place during the IM, and what can happen outside?
Do you have a way to collect data that can be used to improve future IMs?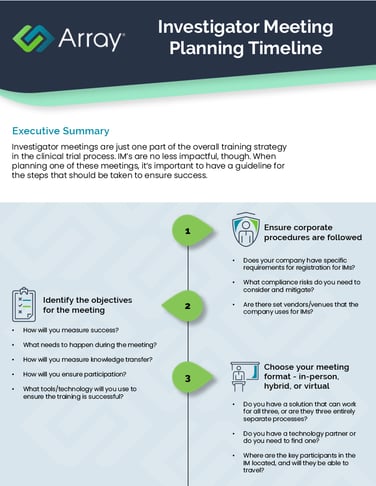 Investigator meetings are just a piece of the clinical trials training strategy, but are incredibly important for the success of the clinical trial as a whole. Planning an IM can be overwhelming when there are so many different aspects to consider, from ensuring corporate policies are followed to choosing the meeting format and ensuring dynamic follow-up with the sites after the IM concludes.
Use this investigator meeting planning infographic to address every part of the planning process and ensure a successful meeting.