Take the complexity out of hybrid attendee engagement with this detailed technology checklist that covers:
Keeping track of your delivery format for presenters and moderators
Audience technical considerations by location
Network and internet needs
Technician and technical support needs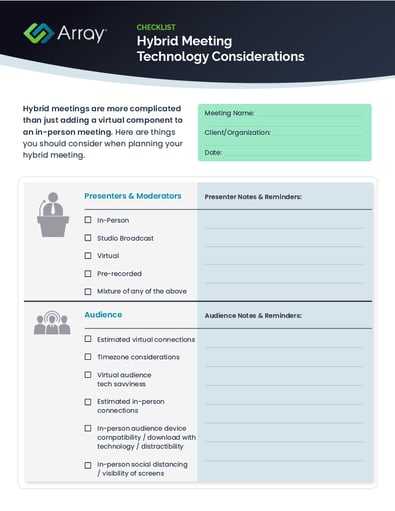 A hybrid meeting format offers convenience and flexibility to attract more influencers, presenters and attendees to your life science meetings. It also offers increased opportunities for engagement along with decreased costs associated with venues, food, beverages and accommodations. But creating a synchronous and engaging hybrid meeting comes with unique challenges. Among these are the risk of creating siloed audiences who experience the meeting differently, potentially alienating your virtual audience participants. These risks can be mitigated with advanced planning.
Use this hybrid technology checklist to plan hybrid meetings that are engaging and informative to both in-person and virtual attendees.