Free Resource
Array Analytics Capabilities Overview
Most life science meeting experts will look at the results of past meetings as they try to establish a strategic meeting program or improve upon the next meeting of the same type. How do you know that you're looking at the most effective metrics and results, though? Array's audience engagement tool provides a more nuanced perspective on the attendee experience and enables our clients to make data-driven decisions that improve the overall quality of their meetings and events. Download this free resource to learn more about how our Analytics & Insights Management (AIM) team can help you make the most out of your meeting content.
Ensure that every piece of data you collect is utilized to its full potential.
Learn about Array's Content Engagement Score (ACES) and how it impacts your plans for future meetings.
Explore the range of engagement techniques that can be used, including audience submitted questions for live Q&A, the ability to annotate and save slides, and polling.
Understand how Array's Analytics & Insights Management (AIM) team proves success and gives you a deeper understanding of the actionability of your insights.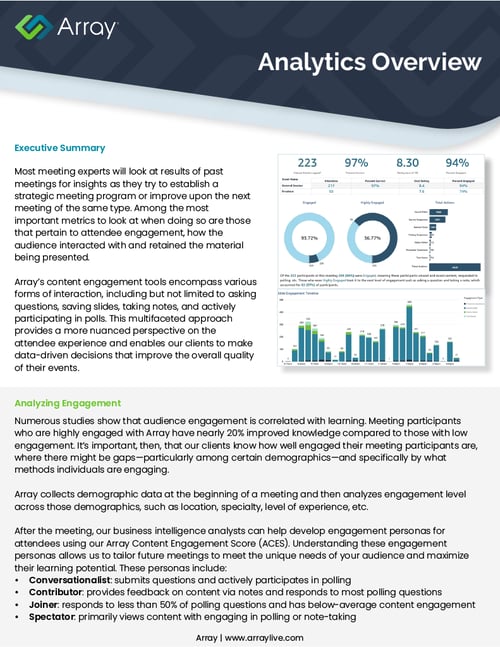 Array's Analytics Overview document is designed to help you understand how you can take the analysis of your meeting data to the next level, gathering more meaningful metrics and gaining actionable insights. Prove success to your stakeholders and consistently improve your meeting strategies with Array's AIM team and expertise.